Concordia Blade-Empire
Kansas Supreme Court Conducts Special Session in Concordia
April 12, 2023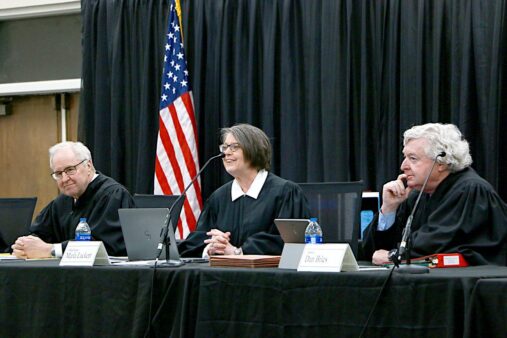 As part of is ongoing outreach program to familiarize Kansans with the overall role of the judiciary, the Kansas Supreme Court conducted a special session Tuesday night in the Concordia High School gymnasium.
The seven Supreme Court justices, Chief Justice Marla Luckert, Eric Rosen, Dan Biles, Caleb Stegall, Evelyn Zabel Wilson, Keynen Wall Jr. and Melissa Standridge, heard oral arguments in two caes, one civil and one criminal during the session.
Since 2011, the Supreme Court has conducted special sessions in communities across the state to give Kansans a glimpse how it functions.